by

Great Southern Distillery – Limeburners Barrel M138 Single Malt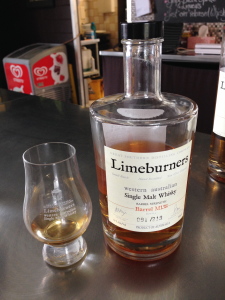 (bottle 019 / 219). Albany, Western Australia, Australia. ABV: 61%. Tasted at the Great Southern Distillery cellar door, $10 (15mL tasting).
Colour: Bright honey gold.
Nose: Charred oak and molasses. Cigar box hints too.
Palate: Wow – intense warmth and spice. Cloves with a touch of rich syrupy sweetness, almost like a caramelised balsamic. Alcohol kick, oily mouthfeel.
Finish: Long and warm. Hints of candied dried fruits, but the warmth and spice dominates.
Comments: Perfect on a cold rainy day. Even better on a cold rainy day at the Limeburners cellar door in Albany!