by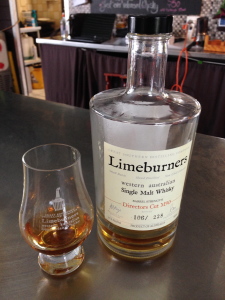 Great Southern Distillery – Limeburners Directors Cut M90 Barrel Strength Single Malt (bottle 106 / 228). Albany, Western Australia, Australia. ABV: 61%. Tasted at the Great Southern Distillery cellar door, $10 (15mL tasting).
Colour: Dark ambery caramel.
Nose: Freshy hewn hardwood timber, golden syrup notes too.
Palate: Buttery, creamy sweetness; oily mouthfeel. Hot toast with butter and golden syrup.
Finish: Long and smooth; intense flavours but without overpowering heat, belying the barrel strength 61% ABV.
Comments: It's like licking a salted caramel hard toffee, amazing. I'm definitely enjoying the barrel strength Limeburners more than the standard single malts, which typically run around 43%. There's absolutely nothing wrong with the standard single malts – they're delicious – it's just that the barrel strength releases seem to strike the balance between being full flavoured and yet don't seem to have the kick you might expect of something north of 60%. Another great Limeburners!