by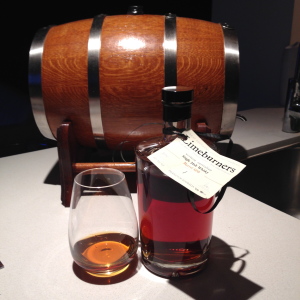 Great Southern Distillery – Limeburners Barrel M93 Single Malt. Albany, Western Australia, Australia. ABV: 61%. Tasted at home, $200 (bottle) from the Limeburners cellar door in Albany.
Colour: Dark varnished timber floorboards.
Nose: Like sticking your nose into a packet of juicy sultanas or currants. Ever so slight tobacco feints, soft oak as well.
Palate: Rich and intense, buttery dark honey notes and spices. Lots of warmth that fills the mouth like you've just had a sip of some warm tea with a big dollop of molasses.
Finish: A long finish. Lots of residual warmth radiates while the spice and golden syrup flavours continue to dance around your mouth, begging you to have another sip.
Comments: I bought the second last 700mL bottle from the cellar door. I really don't want this bottle to finish, but given how much I enjoyed it I fear it will be difficult to ration it out and make it last. $200 a bottle, but worth every penny. Simply superb.