by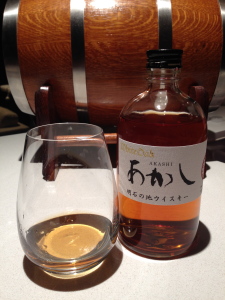 White Oak Akashi Blended Japanese Whisky. Akashi, Japan. ABV: 40.0%. Tasted at home, $15 (500mL bottle).
Colour: Orangey gold. Starting to scrape the bottom of the barrel with new ways to describe different hues of gold.
Nose: Straw and bamboo notes. Is that because it's a Japanese whisky that I'm associating bamboo? Debatable, but I'm sticking to it.
Palate: Cooked vegetables, like a vegetable stew. Dry hay-like flavours, some dry white wine notes too.
Finish: Short finish, very dry. Dry is the word of the day.
Comments: It was certainly a bargain – I have to admit that when I ordered it I misread the size of the bottle. For $15 I was expecting a 50mL bottle, so I was pleasantly surprised when my order arrived and it was a 500mL bottle! It's ok, a little too dry and thin for my liking really.