by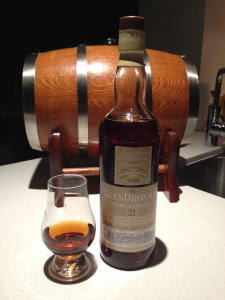 Glendronach 21 Year Old Parliament Single Malt. Highlands, Scotland. ABV: 48.00%. Tasted at home, $120 (bottle).
Colour: As Ron Burgundy might say, it's the colour of rich mahogany.
Nose: 60% of the time it works every time…damn this is a fine whisky. A stunning nose; dried muscatels, molasses, dusty bookshelves.
Palate: Luscious syrupy mouthfeel. Dry sultanas, cocoa, rich sherry flavours; deliciously sweet and chewy without being overly saccharine.
Finish: Caramel flavours dominate; medium length.
Comments: An amazing whisky, beautifully balanced. I could drink this every day as my Whisky a Day challenge for 2015. I'm keen to sit down one night and try a vertical tasting of the Glendronach Revival 15 Year Old and the Glendronach Allardice 18 Year Old, two of my favourite whiskies this year…purely for research purposes of course.