by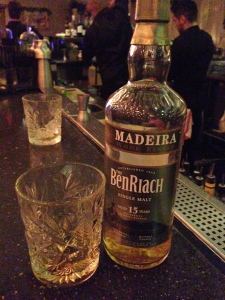 BenRiach 15 Year Old Madeira Single Malt. Speyside, Scotland. ABV: 46.00%. Tasted at The Laneway Lounge, $18.
Colour: Hungover stale beer colour.
Nose: Straw, yet some some rich vanilla and sherry notes.
Palate: Creamy smooth berry flavours.
Finish: Velvety sherbet finish. Tingly smooth – the finish tastes a little like Allen's strawberries and cream lollies.
Comments: Matured in American oak casks initially, then finished in Madeira barrels. There are a few interesting yet contrasting things going on with this one, but it's a bit too much of a medley of flavours and aromas to make it a really good whisky.