by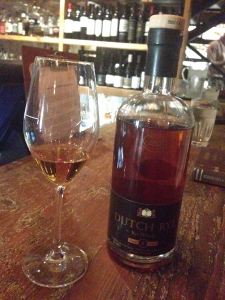 Zuidam Dutch Rye 5 Year Old Whisky. The Netherlands. ABV: 40.0%. Tasted at Varnish on King, $27.
Colour: Candied Dutch orange.
Nose: Very rye indeed. Woody too.
Palate: Quite mild and sweet for a rye, not as spicy as some. The rye flavours dominate above all else though.
Finish: Medium length, dry mouthfeel. Grassy rye flavours linger.
Comments: The Zuidam is a potstill distilled rye. The overwhelming description is "dry rye"…not bad, but not a stand-out. I was curious to try a Dutch whisky, certainly a first for me.