by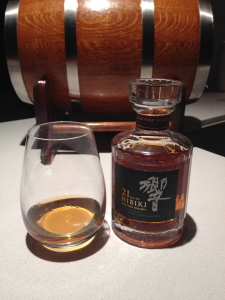 Suntory Hibiki 21 Year Old Blended Japanese Whisky. Osaka, Japan. ABV: 43.00%. Tasted at home, $120 (375mL bottle).
Colour: Rich, dark amber.
Nose: Very soft straw, caramel and toffee notes.
Palate: Very delicate; buttery toffee, vanilla, a hint of cane – super smooth.
Finish: Such a gentle fade, like a piece of silk lightly touching your skin.
Comments: Outstanding. A huge step up from both the Hibiki 12 and the Hibiki 17. I'm quite confident that I can name this as the best blend I've had so far this year, a shame it's only a half-size bottle!