by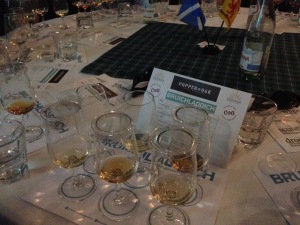 Jim McEwan Masterclass at The Oxford Hotel, Leederville, $50.
What a privilege to have one of the doyens of whisky touring Australia to impart his wisdom, wit and charm as he led us on a journey through Bruichladdich and the history of Islay. On top of that, Jim raised over $11,000 for the Red Cross through donations received at his engaging masterclasses. An amazing night – bagpipes, laughter, touching stories, dancing on tables, a history lesson and we got to try some outstanding whisky too. As it's getting to the pointy end of Whisky a Day, I had previously tasted four of the Bruichladdichs on offer here so I won't cover those again, so I'll focus on the Islay Barley and the Black Art.
2006 Bruichladdich Islay Barley 5 Year Old Single Malt. Islay, Scotland. ABV: 50.00%.
Colour: Very pale straw.
Nose: Camphor, soft oak & straw notes.
Palate: Malty, not peaty at all.
Finish: Long; lingering warmth and tingle.
Comments: This expression is produced with 100% Islay grown barley. Even the name of the farm is on the tin – nice touch. According to Jim the last time 100% Islay barley used was 1914. Overall it's pretty decent, but not my pick of the night.
Bruichladdich 23 Year Old 1990 Black Art 04.1. ABV: 49.2%.  
Colour: Dark luscious toffee.
Nose: Muscatelles, lightly charred oak, dried fruits. Smells amazing.
Palate: Salted toffee, charcoal flavours. Meaty without being peaty.
Finish: Medium to long, quite a soft finish – not as intense as the Islay Barley.
Comments: No one knows the recipe or what casks are used except Jim – so it's only appropriate that it bears the moniker "black art". Really liked this one! Sensational, the clear standout of the night's tastings for me.