by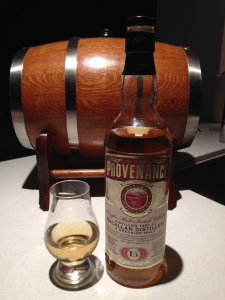 The McGibbon's Provenance – Macallan 1997 Autumn Distillation 15 Year Old Single Malt. Speyside, Scotland. ABV: 46%. Tasted at home, $70 (bottle).
Colour: Pale straw.
Nose: Alcohol feints, yet smooth. Hay-like, honey and lemon notes.
Palate: Straw on the mid-palate. Smooth, sweet somewhat citrusy flavours.
Finish: Medium length yet somewhat soft; quite dry.
Comments: Not as intense as I was expecting, yet eminently drinkable.