by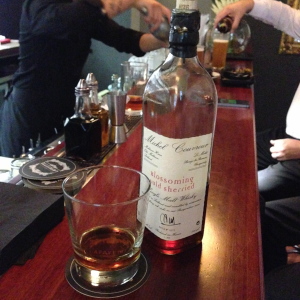 Michel Couvreur Blossoming Auld Sherried Single Malt. Burgundy, France. Tasted at Lafayette. $35
Colour: Burnished copper.
Nose: Buttery toffee, raisins, very soft oak. Fantastic nose.
Palate: Creamy, rich flavours, lots of candied dried fruits but not overly sweet. Creme brûlée. Not a heap of warmth, but just enough.
Finish: Port flavours, cocoa, slight tobacco notes in the fade.
Comments: Reminds me a little of the Limeburners Barrel M93 that I tried (and loved) recently. This is the fourth Michel Couvreur expression I've tasted so far, I can safely say that apart from the Cleararch anomaly the others are the real deal. Another whisky with whom I could quite happily settle in and have a lengthy conversation.