by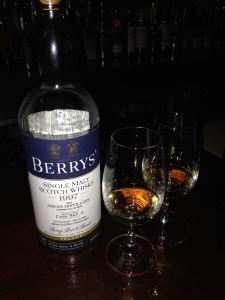 Berrys' 1997 Arran 16 Year Old Single Malt (Cask Ref. 2). Isle of Arran, Scotland. ABV: 46.0%. Tasted at Whisky and Alement (Melbourne).
Colour: Cloudy apple. Lacking viscosity according to my good mate AB who is ably assisting the tasting.
Nose: Honied straw, a touch of lemon rind.
Palate: Honey, sweet lemongrass. "A little passive aggressive" from AB.
Finish: Medium length, dryish.
Comments: A good starting whisky, a palate cleanser before getting into the serious business of…um, drinking more whisky.