by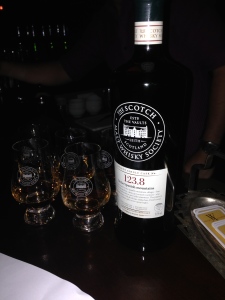 SMWS 123.8 In the Spanish Mountains. 12 year old single cask from Glengoyne distillery, Highlands, Scotland. ABV: 59.3%. Tasted at Whisky & Alement (Melbourne).
Colour: Lotus twilight.
Nose: Lemon cheesecake and spearmint. AB got hints of Listerine mouthwash.
Palate: Organ-hugging, creamy – "I can't believe it's not butter". Multi-dimensional.
Finish: Powerful, long.
Comments: We came up with another observation that it was "James Bondable". No idea what we were getting at here…we'd had a few tastings by this stage. Overall though I enjoyed it, keen to have another crack at it through to see if it really is James Bondable.