by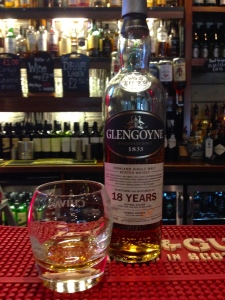 Glengoyne 18 Year Old Single Malt. Highlands, Scotland. ABV: 43%. Tasted at Dram! (Glasgow), £5.20.
Colour: Dark gold.
Nose: Sweet cigar box aromas.
Palate: Lusciously complex, quite rich and full-flavoured. Layers of vanilla, honey and woody notes. Spices and toffee balance each other very nicely.
Finish: Warm honied woody flavours linger along with mixed spices; quite a long finish.
Comments: Seeing as I was in Glasgow and Glengoyne is one of the closest distilleries, I thought it appropriate to sample a dram (appropriately enough at a bar called "Dram!"). Loved it, I could drink this one all night. A shame I didn't get a chance to visit the distillery, though I will be searching out other Glengoyne expressions if the 18 year old is anothing to go by. Recommended!