by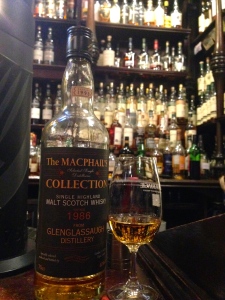 The MacPhail's Collection 1986 Glenglassaugh Single Malt. Highlands, Scotland. Bottled 1998. 40%. Tasted at The Pot Still (Glasgow), £4.65.
Colour: Rich golden honey.
Nose: Freshly toasted bread with honey on top.
Palate: Oily mouthfeel at first, fruity with a good balance of sweetness and tartness – think pineapple.
Finish: Quite a drying finish. Soft woody notes in the fade.
Comments: Geez these whiskies in Scotland are much cheaper than we pay back in Australia! Not a bad drop – I don't think I've tried a whisky from Glenglassaugh before so I can't compare it, however it's not bad at all…worth another taste. This Gordon & MacPhail's release was distilled in 1986, the year that Glenglassaugh was mothballed for quite some time, until being sold and subsequently reopened in 2008.