by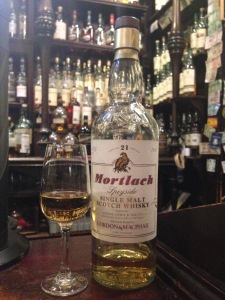 Gordon & Macphail Mortlach 21 Year Old Single Malt. Speyside, Scotland. ABV: 43%. Tasted at The Pot Still (Glasgow), £7.15.
Colour: Bright yellow gold.
Nose: It doesn't just smell sweet, it really does smell like honey.
Palate: Cool, oily entry; mouth-coating. Exceptionally smooth. Rich buttery honey flavours. A tingle builds at the front of the palate.
Finish: A semi-sweet yet drying finish. Medium length for flavour, long for the tingle.
Comments: Such a rich full flavoured dram, yet very easy to drink – the kind of whisky that you could safely have as your go-to drop no matter what the occasion.