by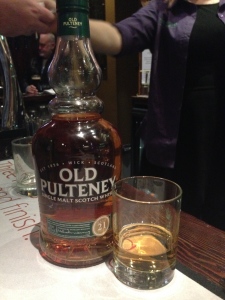 Old Pulteney 21 Year Old Single Malt. Highlands, Scotland. ABV: 46.00%. Tasted at The Ben Nevis Bar (Glasgow), £8.20.
Colour: Orangey gold.
Nose: A bit floral, a touch fruity.
Palate: Nice and smooth, but not necessarily something to write home about. Toasted citrus and buttery notes.
Finish: Sweet soft smoke, medium length.
Comments: Like a juvenile dwarf, it's slowly growing on me. It's nice, but for me it's not going to set the world on fire.