by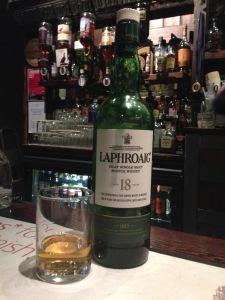 Laphroig 18 Year Old Single Malt. Islay, Scotland. ABV: 48%. Tasted at The Ben Nevis Hotel (Glasgow), £…can't recall.
Colour: Island golden shower.
Nose: Peaty iodine notes dominate. Typical Laphroig.
Palate: Strong smoked meat flavours, but somewhat softer and somewhat of an oily mouthfeel.
Finish: Front of your tongue – it doesn't dominate & fill your mouth like a younger Laphroig.
Comments: By this stage of the night my ability to accurately and creatively describe the whisky was diminishing almost as rapidly as the pounds from my wallet…in hindsight? Quite similar to the Laphroig 10 and Quarter Cask, but much smoother.