by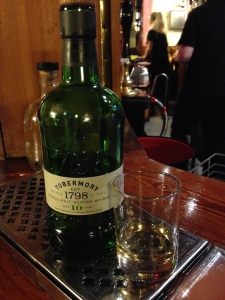 Tobermory 1798 10 Year Old Single Malt. Isle of Mull, Scotland. ABV: 46.3%. Tasted at the Isles Inn (Isle of Skye), £3.75.
Colour: Faded gold.
Nose: Soft and light; pine needles primarily.
Palate: Citrus peel and saltiness, making almost a bit sour. Like sucking on a lemon sherbet lolly.
Finish: A drying finish, quite salty; medium to long.
Comments: Not as enjoyable as the 1798 Limited Edition 15 Year Old, but I guess that's to be expected.