by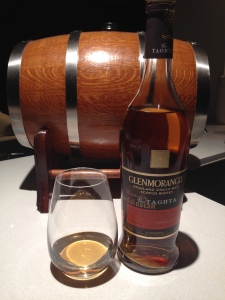 Glenmorangie The Taghta Single Malt. Highlands, Scotland. ABV: 46.0%. Tasted at Glenmorangie Distillery (Tain).
Colour: Light golden toffee.
Nose: Juicy sultanas, brown sugar.
Palate: Creamy, oily mouthfeel. A slight peppery prickle on the tongue, but quite salty. Full flavoured, fruity, somewhat sweet and also spicy – the layers of flavour just keep coming.
Finish: Some toasty, sweet flavours linger. Lots of flavour, warmth in the medium to long finish.
Comments: "Taghta" translates in Gaelic to "The Chosen". It's the latest of Glenmorangie's private edition releases, previous editions including the Companta and Ealanta. Like its forebears, it originates much like the Glenmorangie 10 year old, but is then extra matured in a Spanish Manzanilla Sherry cask (Manzanilla is a Spanish white sherry). The background to this expression is that Glenmorangie tried extra maturation of the 10 year old in three different types of barrels, then put it out to their loyal fans to choose which one they liked the most.  The one they chose (hence the name "Taghta") was the Manzanilla cask. I actually rate this one better than the Companta, it's a fantastic drop – I "choose" to have another one!