by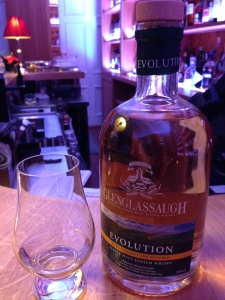 Glenglassaugh Evolution Single Malt. Highlands, Scotland. ABV: 50%. Tasted at the Craigellachie Hotel, £4.80.
Colour: Super light straw.
Nose: Fruity, citrus aromas, hessian sacks.
Palate: Dry mouthfeel. Lemon, dried banana; quite tangy.
Finish: A sherbety tingle, quite a long finish. Salty and sweet balance.
Comments: Lighter and a lot fruitier than I was expecting, but more citrusy rather than dried fruits and Christmas cake sort of flavours. Not too shabby.