by

Tour of The Balvenie Distillery. Speyside, Scotland. £35.
After an enthralling morning touring Glenfiddich Distillery, it was time to duck right next door to their sister distillery Balvenie. Little did I know that I was about to taste one of the standout whiskies of the year for Whisky a Day.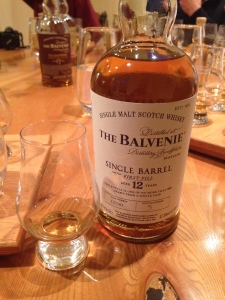 Whisky #319: Balvenie Single Barrel First Fill 12 Year Old Single Malt. Speyside, Scotland. ABV: 47.80%.
Colour: Dull peachy gold.
Nose: Bit of an alcohol kick initially that quickly fades. Malty sweetness and cereal notes come through.
Palate: Oily mouthfeel, butterscotch flavours.
Finish: Spices and warmth, syrupy honey flavours in the fade.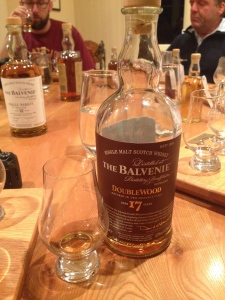 Whisky #320: Balvenie Doublewood 17 Year Old Single Malt. Speyside, Scotland. ABV: 43.00%.
Colour: Brassy copper colour.
Nose: Soft peat hits you immediately – even at only 3ppm. Very soft burnt toffee notes too. Almost a bit earthy too.
Palate: Dry, golden syrup notes, very faint straw notes. Delicious!
Finish: Sweet syrup and very soft smoke in the fade.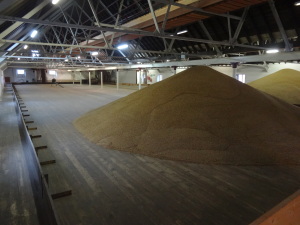 Whisky #321: Balvenie Bourbon Refill Barrel 40 Year Old Cask Strength Single Malt (Barrel 17703). Speyside, Scotland. ABV: 53.7%.
Now this was the special one…
Colour: Deep, honied gold with particles of charcoal from the barrel.
Nose: Honeycomb, dusty bookshelves.
Palate: Stunning. Mouth coating, syrupy, rich vanilla. Velvety, creamy; like honey and butter on hot toast.
Finish: Intense, golden syrup and earthy notes – words fail me, I'm drifting away…
Comments: Now this was the special one. As a member of Balvenie's Warehouse 24 club, on the tour I was granted a special surprise. Along with my new tour friends from the Boat City Whisky Club in Poland, we were given a "dog", a small empty bottle, and tasked with locating barrel number 17703 upstairs in Warehouse 24. Once we located it, we could then use the dog to fill up the bottle with this precious liquid gold. Of course, there is absolutely NO truth to the rumour that the dog was then refilled and passed around when our tour guide wasn't looking so we could sample some more of Barrel 17703's contents straight from the cask…
Only when we got back to the tasting room did we learn that it was a 40 year old whisky that we had been tasting sraight from the cask in the warehouse where it has been maturing for the past four decades. It was simply divine, one of the stand-out whiskies of the year for me.