by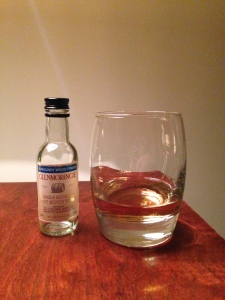 Glenmorangie Burgundy Wood Finish Single Malt. Highlands, Scotland. ABV: 43%. Purchased from the Glenmorangie Distillery, £5.
Colour: Brassy gold.
Nose: Vanilla, honey and light woody notes.
Palate: Slightly salty honeycomb flavours; a chewy, oily mouth-coating texture.
Finish: A slight prickle on the front of the tongue; spices and pepper in the fade.
Comments: A little disappointing to be honest, it was just not as interesting as I was hoping for from a Glenmorangie extra-matured whisky. Perhaps this is why the Burgundy Wood Finish was discontinued and they're flogging off miniatures in the distillery visitor's centre. It's by no means a bad whisky – in fact it's quite palatable – it's just not up to the lofty standards I had expected from what has long been my favourite distillery. Perhaps I was spoilt a bit by tasting the excellent Glenmorangie Taghta a couple of days ago!