by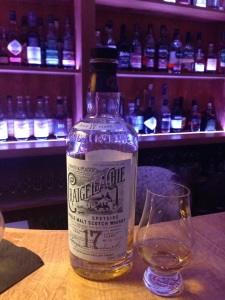 Craigellachie 17 Year Old Single Malt. Tasted at the Craigellachie Hotel's Quaich bar, £8.50.
Colour: Vibrant gold.
Nose: Quite malty, hints of honey too.
Palate: Tangy nectarine; lemon sherbet, grassy.
Finish: Crisp and dry, yet some sweet citrus flavours. Medium length.
Comments: Given I was staying at the Craigellachie Hotel in the village of Craigellachie, I really had no choice but to try a Craigellachie malt. They primarily produce for Dewar's Blended Whisky, so I thought it appropriate to take the opportunity to try one of their comparatively hard to find single malts. Not too bad, but nothing particularly amazing to write home about.