by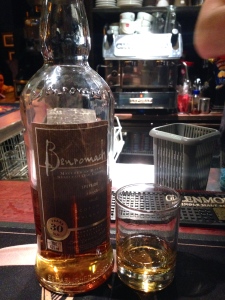 Benromach 30 Year Old Single Malt. Speyside, Scotland. ABV: 43%. Tasted at the Beehive Inn (Edinburgh), courtesy of my friends Andrea & Lynne.
Colour: Like a dark Scotch tea.
Nose: Dried currants and cherries. Very smooth – no prickle whatsoever. Golden syrup notes. I have literally nosed this whisky for 15 minutes before tasting as it smells that good.
Palate: Dusty earthy notes, semi-sweet fruity flavours. Peacherine flavours maybe?
Finish: Medium length, quite a dry finish of blueberries – slightly tart yet sweet.
Comments: A lot smoother than other Benromach's I've tried before, much tastier too. Another whisky where I've been enthralled by the nose, enjoyed the palate, but nowhere near as much as the nose.