by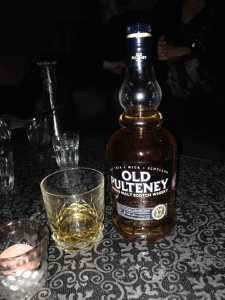 20/11/14
Old Pulteney 17 Year Old Single Malt. Highlands, Scotland. ABV: 46%. Tasted at Purl Bar, £18 (50mL).
Colour: Amber shade 6436 on the Pantone colour chart, according to my interior architecture maestro Rae Rae.
Nose: Smooth earthy straw, blended with incense burning in the background.
Palate: Honied woody notes.
Finish: Sweet cane, woody finish. Medium length.
Comments: After a thousand drinks on my last night in London with two of my bestest but most devious friends Rae and Jimmy, my ability to break down a whisky is slightly impaired. But I would have it no other way, love these guys. Wish we lived in the same city. Wish our friend Aidi was here too!