by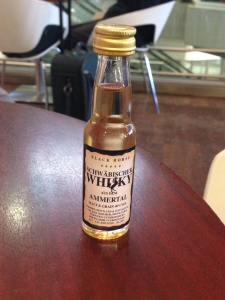 Schwäbischer Ammertal Malt & Grain Whisky. Baden-Württemberg, Germany. ABV: 40%. Tasted at Stuttgart Airport departure lounge, a gift from my very good friends Steve & Julia.
Colour: Golden mustard.
Nose: Slight prickle, straw notes.
Palate: Nutty, slightly oily mouthfeel.
Finish: Slight honey aftertaste, raw alcohol heat, medium length.
Comments: Not that special, too raw, too brash. Nowhere near as refined or as tasty as the Finch Whiskies I tasted on my visit the other day.