by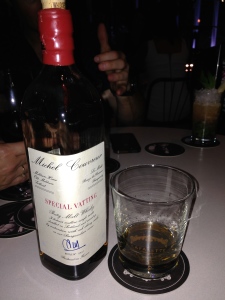 Michel Couvreur Special Vatting Peaty Malt Whisky. Burgundy, France. ABV: 45.00%. Tasted at Lafayette.
Colour: Dark caramel.
Nose: Honey, but not super sweet.
Palate: Semi-sweet peat. Paddle pop stick on your tongue when the doctor asks you to stick out your tongue and say "ahhhh". Almost a bit soapy.
Finish: A medium quite drying finish, front of the palate.
Comments: Not that great, especially compared to other Michel Couvreur expressions I've tried this year like the Blossoming Auld Sherried Single Malt or the Candid Malt Whisky.