by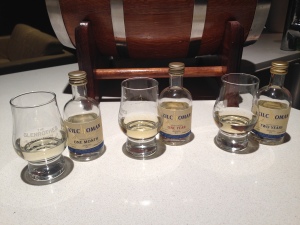 Kilchoman New Spirit Vertical Tasting. Tasted at home, $45 (set of 3 x 50mL bottles).
One of the greatest challenges facing any young distillery is how to get cashflow in the first few years while you're waiting for your spirit to mature into "whisky" – in Scotland this period is a minimum of three years. While many distilleries produce other spirits that don't require maturation (and thus can be sold immediately) – such as gin or white rum – the folks at Kilchoman decided to release a sample of their new spirit aged at One Month, One Year and Two Years.
This is essentially exactly the same new spirit that has come off their stills, however it has been bottled after spending varying lengths of time maturing in casks. So it should make for an interesting and truly vertical tasting.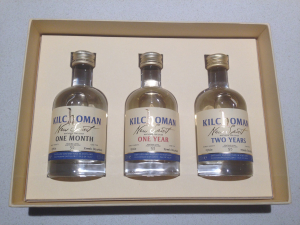 Kilchoman New Spirit One Month. Islay, Scotland. ABV: 63.5%.
Colour: Clear, very pale straw.
Nose: A medicinal prickle.
Palate: Very dry mouthfeel; sharp peaty straw-like flavours too.
Finish: Brash, peaty and strong. The heat lasts longer than the flavour and buzzes mainly at the front of the tongue.
Kilchoman New Spirit One Year. Islay, Scotland. ABV: 63%.
Colour: Pale dull gold.
Nose: Smoother than the One Month. Almost a bit of creaming soda. But with lots of smoke.
Palate: Intense smoke and peaty dryness.
Finish: Salty, smoky and tangy. A more satisfying buzz around the mouth.
Kilchoman New Spirit Two Years. Islay, Scotland. ABV: 62%.
Colour: Pale dull gold – not much different to the One Year.
Nose: Creamy and peaty again, but almost a bit floral too.
Palate: It's definitely started to soften compared to the One Year – there's still a bucketload of peat as you would expect, but it's much more refined.
Finish: A dry, briny finish, quite long.
Overall comments: Very interesting to taste the same spirit at three different stages of its maturation. With regards to the colour, there was a noticeable change from the One Month to the One Year, but surprisingly very little difference from the One Year to the Two Year. On the palate the softening from the rawness of the One Year to the cool smoke of the Two Year was interesting. They're all still very young, but a fascinating comparison to see the maturation journey of a Kilchoman whisky.