by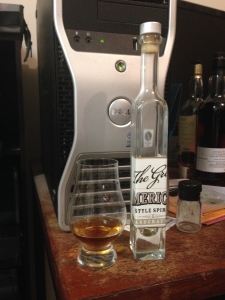 The Grove American Style Spirit (sample). Margaret River, Western Australia, Australia. ABV: unknown. Tasted at a friend's house, $0.
Colour: Cloudy copper.
Nose: Wet sweaty socks. Reminds me of the smell of the salty, sweaty socks I've worn for four days straight during the Sydney to Hobart yacht race – except that my sailing socks generally don't smell this bad. Smells like vomit on a pub carpet that hasn't been scrubbed out from the night before. Aromas like the smell when you overtake a cattle truck on the highway.
Palate: You can't really appreciate a whisky if you're holding your breath to avoid the repulsive nose. There are some oaky, somewhat rich dried fruit notes, but totally overshadowed by the nose.
Finish: A few sherry-like notes in the fade, medium finish.
Comments: The nose just totally ruins this whisky. I'm not normally a negative person and even when I taste a poor whisky I don't like to sink the boot in, but this is horrible stuff. Which is a shame as earlier in the year I tried a different bottling of The Grove American Style Spirit, and whilst it wasn't outstanding it was certainly drinkable. Unlike this one, so they've obviously got a bit of variation between their batches. This one definitely makes it to the rarified air to achieve the designation of a "truly awful" whisky.