by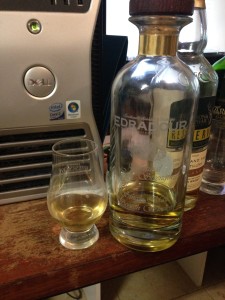 Edradour Natural Cask Strength Bourbon Cask. Highlands, Scotland. ABV: 57.4%. Tasted at my friend Nathan's place, courtesy of the whisky fiend himself.
Colour: Pale golden apple juice.
Nose: Nose prickle; lemon sherbet.
Palate: Salty popcorn, some creamy light fruit flavours too. Oily mouthfeel.
Finish: Long tingle all around the front of the tongue and mouth.
Comments: Edradour has been one of the finds of the year for me, I hadn't come across it before but I've been loving exploring their range of malts. I didn't enjoy this one quite as much as the other Edradour Natural Cask Strength that I tasted in Glasgow recently, but this one is still quite enjoyable.