by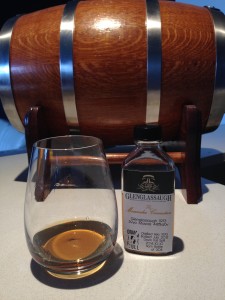 Glenglassaugh 1973 39 Year Old Single Malt – The Massandra Connection – Muscat Wine Cask Finish. Highlands, Scotland. ABV: 44.1%. Tasted at home, $100 (100mL bottle).
Colour: Brassy amber.
Nose: Sweet leather; mixed dried fruits, especially sultanas. Dark toffee notes too. A slight nose prickle which is very tolerable when the whisky has such a top nose.
Palate: Creamed honey and vanilla. Velvety smooth, buttery oily mouthfeel. Wow.
Finish: A super smooth salty-sweet fade, medium length yet a somewhat dryish finish.
Comments: Amazingly delicious, it's a huge challenge to resist consuming the whole 100mL sample in one sitting. So sublime it's impossible to make any tongue-in-cheek remarks about this one.