by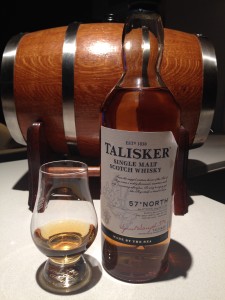 Talisker 57° North Single Malt. Isle of Skye, Scotland. ABV: 57.00%. Tasted at home, $127 (bottle).
Colour: Rich orangey gold.
Nose: Salty honeycomb, some very subtle hints peat.
Palate: Peppery mixed spice with a sweet vanilla undertone.
Finish: Citrusy sweet mandarin peel flavours give way in a slow gentle fade.
Comments: They named this expression Talisker 57° North because that's the latitude of the Talisker distillery on the Isle of Skye. Whilst this has been diluted down from cask strength to an ABV of 57% (to match the latitude), it's great to taste a stronger Talisker – I'd love to taste a cask strength release some day.