by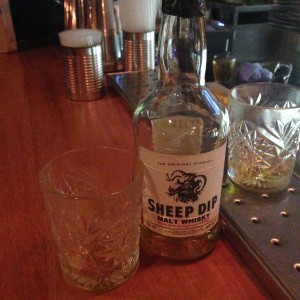 Sheep Dip 8 Year Old Blended Malt Scotch Whisky. Highlands, Scotland. ABV: 40.00%. Tasted at Riverbar & Kitchen (Brisbane), $11.50.
Colour: Light honied amber.
Nose: Smells like fresh straw in a stable. Quite grassy.
Palate: Honied sweetness, some slight herb notes too. Very faint aniseed undertones. Cool oily mouthfeel. My good mate Pete adds that it tastes like compacted fairy floss. Definitely not peaty…or Petey.
Finish: My mate JC has a sip and suggests that it is "threatening butteriness". Herby fade.
Comments: A very easy blend to drink after 6 hours of imbibing other beverages.