by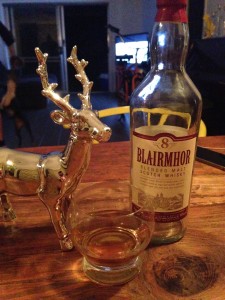 Blairmhor 8 Year Old Blended Malt Scotch Whisky. Speyside, Highlands, Scotland. ABV: 40%. Tasted at my friends Carly & JC's place, $0.
Colour: Ambery amberish amberosity.
Nose: Honey, vanilla, sweet hessian sacks.
Palate: Smooth, sweet straw-like flavours.
Finish: A dry finish, yet slightly sweet honied notes in a short to medium fade.
Comments: I was really surprised, thought this was going to be a "truly awful" whisky but it was actually ok! Produced from a vatting of up to 20 malts apparently.