by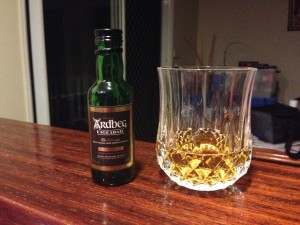 Ardbeg Uigeadail Single Malt. Islay, Scotland. ABV: 54.20%. Tasted at home, $8 (50mL miniature bottle).
Colour: Bright gold.
Nose: After initially just a heap of peat smoke, with a swirl around the glass it gives off some smoked BBQ meat flavours.
Palate: Briny, tangy flavours with a healthy tingle on the tip of your tongue. Lots of peat but there's a slight hint of some sweet smoke flavours too.
Finish: Long, lingering peaty finish, almost a touch chocolatey.
Comments: Not quite as in your face as other Ardbeg expressions, a little sweeter but still loads of smoke.