by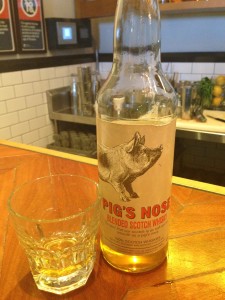 Pig's Nose Blended Scotch Whisky. Speyside, Lowlands & Islay, Scotland. ABV: 40%. Tasted at The Glenmore Hotel (Sydney), $9.50.
Colour: Slightly cloudy light gold.
Nose: Honey sweet straw notes.
Palate: Very thin; tastes like it's been watered down. Faint cloves, herb & notes. Watery honey is the best way I could describe it.
Finish: Insipid, short, thin.
Comments: The label waxes lyrical about the whisky's signature smoothness and how it's "soft as a pig's nose". If this was a cut of meat it's hardly a fine fillet or cutlet, rich and full flavoured – it's more like all the lips and arseholes minced together to form some semblance of a sausage that when consumed seems to fill you up but leaves you quite unsatisfied and even a little unsure whether you've eaten real meat.