by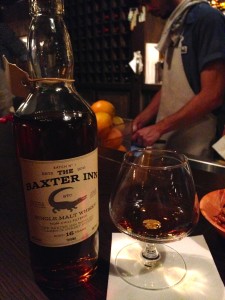 Baxter Inn Port Batch Cask Strength 16 Year Old Single Malt. ABV: 54.8%. Speyside, Scotland. Tasted at The Baxter Inn, $19.
Colour: Deep luscious copper.
Nose: Sweet muscatels and cherries. A slight alcohol cloud wafts up the nostrils.
Palate: Salty sweet caramelised dried fruits, think juicy plums and nectarines.
Finish: A tingling linger of warmth, a long gentle fade of dried fruits. Quite a drying finish.
Comments: Cracking value. Sitting in the Baxter Inn how could I possibly pass up one of their own bottlings. Full flavoured, rich and fruity, a top drop.