by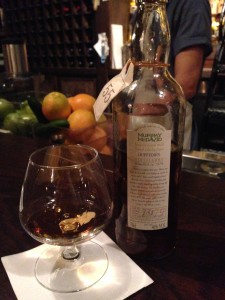 Murray McDavid Dufftown Distillery Speyside Single Malt Whisky (distilled 1979). Speyside, Scotland. ABV: 46%. Tasted at The Baxter Inn, $55.
Colour: Dark burnished copper.
Nose: I could sniff this all day. Absolutely stunning notes of golden syrup, toffee, soft oak, fresh vanilla pods…wow.
Palate: Silky smooth entry, stunning mouthfeel – oily, velvety, like having the most gentle passionate first kiss with the girl you've always fancied. Soft sherry notes, brown sugar, muscatels…I could go on for hours.
Finish: A whisky this good shouldn't finish. Eventually it does, leaving a gradual flavour fade but not a whole heap of warmth.
Comments: Stunning. An absolutely amazing dram. I want a bottle of this at home, cost be damned.