by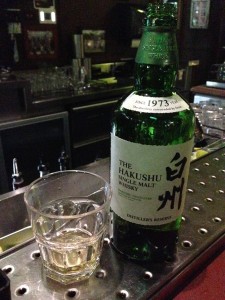 Suntory Hakushu Distiller's Reserve Single Malt Japanese Whisky. Hokuto, Yamanashi, Japan. ABV: 43.00%. Tasted at Kings Cross Hotel, $10.50.
Colour: Light maple syrup.
Nose: Very light, a little floral. Somewhat ill-defined. My mate Heshy described it as like a bad rainbow over Bondi Beach. I have no idea what he's banging on about there!
Palate: Light wafer biscuit. Slightly salty honeycomb. Soft hay-like flavours.
Finish: Short to medium finish.
Comments: Nothing outstanding. It's ok, but fairly middling.