by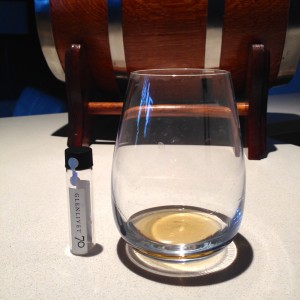 1940 Gordon & MacPhail Generations Glenlivet 70 Year Old (Release 2) Cask Strength Single Malt. Speyside, Scotland. ABV: 45.90%.
I really am indebted to a very kind friend of mine who generously gave me this small sample bottle as it would be a fitting end to the Whisky a Day year. Wow – I cannot believe I am tasting a 70 year old whisky.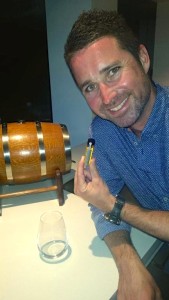 Colour: Deep amber.
Nose: Sweet sticky BBQ rib smokiness; musty bookshelves, a hint of leather. It's like opening an old camphor wood chest. Tart raspberries or cherries. Such a complex, layered nose.
Palate: So smooth – words seem inadequate. Velvety, a touch of sherried sweetness yet the tart salty flavours and subtle smokiness are the dominant ones.
Finish: A long, gentle embrace of warmth as the flavours gradually tease and then fade off the front half of the palate. Soft smoke, demerara sugar – slightly less sweet than brown sugar.
Comments: The cask was laid down on February 3, 1940. That's just after the start of the Second World War. Fuck me, that puts things into perspective. Finally bottled in 2010 by Gordon & MacPhail at its cask strength of 45.9%, it was matured in a first fill sherry butt.
I really, really enjoyed it, but it's not the best whisky I've had this year. An outstanding dram, though I've been left speechless mainly because of its age and rarity. A shame it was only a small sample as its incredibly nose and palate really deserve a much longer period of inspection to get to know this dram. Simply sublime…