by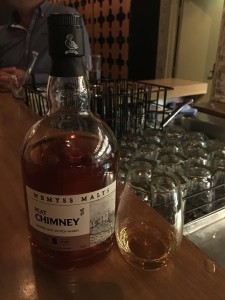 Wemyss Peat Chimney 12 Year Old Blended Malt Scotch Whisky. Edinburgh, Scotland. ABV: 40.00%. Tasted at Helvetica.
Colour: Bright gold.
Nose: Orange peel, bush honey and a faint hint of smoke.
Palate: Light, cool entry. Front palate cops the flavour.
Finish: Smooth, subtle peaty fade.
Comments: Wemyss are noted for blending together malt whiskies, with this release being a vatting of 16 different whiskies.  The peatiness in this blend comes from a 12 year old Islay malt. I was impressed at the smoothness of this one, particularly the cool smokiness – very easy drinking.