by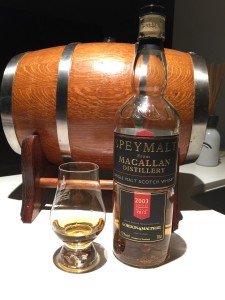 Gordon & MacPhail Speymalt From Macallan Distillery Single Malt. Speyside, Scotland. ABV: 43%. Tasted at home, $80 (bottle).
Colour: Sparkling brass.
Nose: Creamy caramel fudge, a hint of almonds too. Delicious.
Palate:Biscuits, lemon cheesecake. Quite a dry mouthfeel, not very sweet which surprises given the nose.
Finish: Shorter than I was expecting, only medium length and quite a drying finish. Some white pepper notes in the fade.
Comments: Very decent, especially the nose. Though not quite as fruity or full bodied on the palate as I had hoped it might be after it flirted with my nostrils, you saucy thing you.