by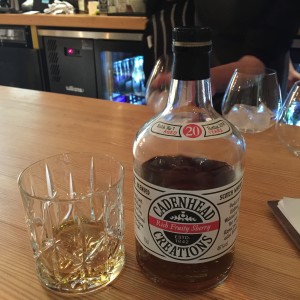 Cadenhead Creations 20 Year Old Blended Scotch Whisky. Scotland. ABV: 46%. Tasted at The Salopian Inn (McLaren Vale, South Australia), $18.
Colour: Burnt caramel.
Nose: Creamy toffee, with a very faint alcohol tickle of the nostrils.
Palate: Strawberries and cream, but not too sweet. Berry compote and honey on pancakes.
Finish: Medium length, mid palate finish.
Comments: Surprisingly not like your traditional sherry bomb, though it's interesting in that it's not too common to find a blended whisky that's been aged in sherry casks. It's a blend of grain whisky from Cameronbridge and Invergordon, and malts from Bruichladdich and Mortlach. Quite a unique drop, particularly being a 20 year old. Recommended.