by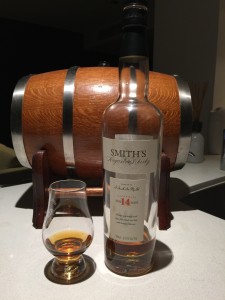 2000 Smiths Angaston 14 Year Old Single Malt. Barossa Valley, South Australia, Australia. ABV: 43.5%. Tasted at home, $120 (bottle).
Colour: Bright sticky toffee.
Nose: Outstanding – some sweet dried fruits, rich oak and hessian. Like a Columbian playboy I could snort this all day.
Palate: Salted caramel, rich fruits; chewy, oily mouthfeel. Like biting into a moist Christmas cake.
Finish: Spicy vanilla flavours with a long fade and a slightly drying finish. A warm tingle as the alcohol subsides.
Comments: Franklin barley from Tasmania, malted at Coopers Brewery in Adelaide, then distilled at Angaston in the Barossa Valley.