by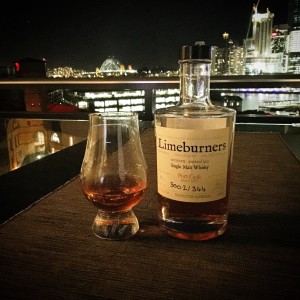 Great Southern Distillery – Limeburners Port Cask Barrel M175 Single Malt (bottle 300.2 of 344). Albany, Western Australia, Australia. ABV: 43%. Tasted at my good mate Kiwi's place.
Colour: Pinky orange Turkish delight.
Nose: Cinnamon, honey and rose petals.
Palate: Vanilla spice; hot buttered fruit toast with a smattering of raspberry jam.
Finish: Quite a drying finish; spiced fruits with a warming fruit tingle at the front of the palate. Actually, kind of like letting a pink Fruit Tingle sweet sit on the tip of your tingle and slowly dissolve.
Comments: The port flavours came through more in the finish, but definitely not in an overly syrupy, sweet kind of way. It's a whisky of contrasts – on the one hand it's very easy to drink, not brash or in your face. Yet it has this subtle complexity that you could sit there and really analyse the multitude of layers if you so choose.
I chose to have this Limeburners as my first whisky in Sydney since moving back here from Perth last week. I thought it fitting that I should bring a little piece of Western Australia over with me and introduce Limeburners to some of my Sydney friends. Sitting here at my mate Kiwi's place overlooking the Harbour Bridge, it's really the perfect drop to contemplate how things have changed, but also reflect on how good it is to be back in Sydney too. I look forward to sharing some more Limeburners malts with my Sydney friends soon, they really are producing some cracking whisky over there in the wild west.