by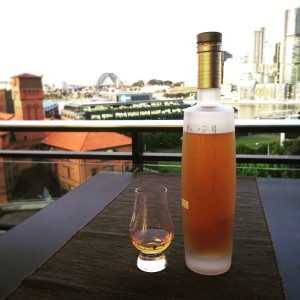 Bruichladdich Octomore Edition 6.3 Cask Strength Single Malt. Islay, Scotland. ABV: 64.00%. Tasted at my good friend Kiwi's place, $298 (bottle).
Colour: Brilliant deep golden.
Nose: Sweet, cool smoke. Vanilla sponge cake, raspberry & dark chocolate. Like the faint whiff of a fireplace burning in a distant cabin on a crisp winter evening in the mountains.
Palate: Intense yet crisp; salty and smokey. Salted caramel and smoked cod. Lemon sorbet notes too; tangy yet a hint of sweetness.
Finish: Long and full. A zesty and salty tang, gently tingling the front of the palate while the flavours linger all around the mouth.
Comments: Octomore 6.3 was a much anticipated expression from Bruichladdich, representing their first release utilising barley grown on the island of Islay. Due to Islay's harsh climate, the yield from this crop was quite low, so I don't see this being a movement that Bruichladdich will make for all of their production, but will likely continue for special expressions like the Octomore 6.3.  And geez, this is a pretty special dram.
This barley was peated to 258ppm, which is ridiculously high. To put this in perspective, the Octomore 6.1 (which previously held the mantle of the world's peatiest malt) contains 167 phenol parts per million, whereas a run of the mill Ardbeg 10 year old contains around 55ppm.
Right after tasting the Octomore 6.3 I re-tasted the Octomore 6.1, which is a whisky I came to appreciate more and more over the past 12 months (read: 3 bottles worth). Looking back now, my initial tasting notes from last September don't do the Octomore 6.1 justice (perhaps because I'd also tried another half dozen whiskies that day). I love the 6.1's smooth, chocolatey and smokey notes that build, with some delicious caramelised char-grilled meaty flavours. It's a slightly smoother drop than the 6.3, which is a little more upfront. That said, both Octomores are very much slapping you in the face and bursting with flavour.
Overall, I think I prefer the 6.1 as it's a little more balanced, but the 6.3 is a brilliant expression with a slightly fuller flavour. Which is a little like comparing two top end Ferraris and saying that one has slightly more horsepower than the other, when in reality you just want to enjoy two magnificent creations of impeccable pedigree.