by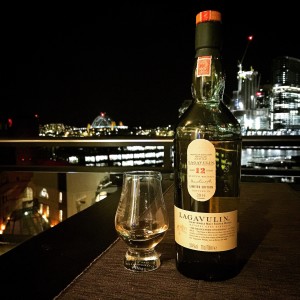 2014 Lagavulin 12 Year Old Limited Edition Cask Strength Single Malt. Islay, Scotland. ABV: 54.40%. Tasted at my good mate Kiwi's place, $130 (bottle).
Colour: Crisp, crystal clear gold.
Nose: Sweet meaty notes, like bacon and maple syrup. Light sweet smoke, camphor, buttery prickly ash.
Palate: Sea salt with a buttery lemon tang. Caramelised shellfish, like the flavours you get when you've grilled lobster tail or fresh bugs on the BBQ. Full flavoured without being overpowering.
Finish: Quite a long, salty and drying finish; some mocha notes too. With time in the glass the finish also seems to deliver some more smoke & flavours more akin to the Lagavulin 16 year old, yet in a more delicate way. Some residual warmth; powdery cocoa & oaky vanilla notes in the slow, gentle fade.
Comments: A much more crisp and nuanced dram than the Lagavulin 16; a lot less smoke but there is still the expected element of Islay peat that you would hope from a Lagavulin. It's been matured in American oak rather than ex Sherry casks like its 16 year old stablemate, and bottled at a natural cask strength of 54.4%.
I have to admit I took a while to taste this one, which involved topping up the glass a number of times. In part because it's quite a smooth yet multi-layered dram that seems to reveal just a little more with each sniff or sip, but also partly because I was enjoying it so much and it's so easy drinking that I simply got blissfully distracted from the task at hand.