by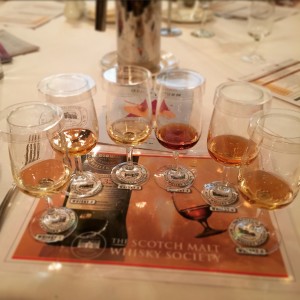 Whiskies #382-387: Scotch Malt Whisky Society Winter Tasting. Royal Automobile Club, Sydney. $85.
Since Whisky a Day only recently located from Perth to Sydney a month ago, the first SMWS tasting event was locked into the calendar. Excellently hosted by the SMWS Australian Cellar Master Andrew Derbidge, last night's tasting was an overview of six of the Society's latest releases.
Whisky #382: 64.54 Sweet and Tart, Subtle and Delicate. 10 year old bottling from Mannochmore Distillery. Speyside, Scotland. ABV: 56.3%.
Colour: Pale straw.
Nose: Pine needles, wood chips, and sherbet.
Palate: Tangy lemon, peppery spice, with some cheesecake flavours to round off.
Finish: White pepper with a long, salty tingle and generous warmth around the mouth. Like the sensation of sucking the lemon after you've just downed a shot of good tequila. The oily warmth lingers longer than the flavours, but in a comforting way.
Whisky #383: 35.133 Mediterranean Maharaja goes Americana. 20 year old bottling from Glen Moray Distillery. Speyside, Scotland. ABV: 55.8%.
Colour: Rich honey.
Nose: It's a very bourbon-ish nose which hits you immediately. Fennel and spiced mead; sweet oaky notes with some time in the glass.
Palate: Spiced honey, cocoa, sultanas and spiced fruit toast.
Finish: Quite a short, drying finish with some savoury biscuit notes.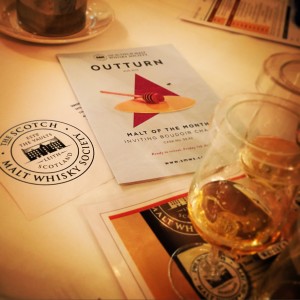 Whisky #384: 46.25 Soft, Elegant and Intensely Creamy. 21 year old bottling from Glenlossie Distillery. Speyside, Scotland. ABV: 46.4%.
Colour: Pale apple juice.
Nose: Fresh apples in a wet hessian sack. Ok, so I got fresh apples and I separately got some wet hessian notes, but seeing as the tasting was being conducted in the Royal Automobile Club where anoraks abound, I thought I'd better combine the two descriptors and really turn the wankiness up to 11. My eminent whisky tasting neighbour Dave picked up notes like walking past a makeup counter through a department store.
Palate: Baked pears, some sweet caramelised flavours too. A cool, creamy mouthfeel; reminds me of fruit salad atop a freshly baked pavlova.
Finish: Passionfruit syrup and vanilla ice-cream. Very light and delicate.
Comments: This was my favourite whisky if the night. Quite a low ABV for a cask strength bottling, but it's just so easy to drink and keeps begging you back for more. So much so that I ordered a bottle so I could do precisely that.
Whisky #385: 119.14 Raspberry Imperial Stout. 11 year old bottling from Yamazaki Distillery. Japan. ABV: 53.9%.
Colour: Wow. Deep rich toffee. I started enjoying this one long before I picked up the glass.
Nose: It's a huge sherry bomb, simply divine. It reminds me a lot of the nose you get from some Glendronach malts, particularly the Glendronach Allardice 18 year old and Glendronach 21 year old. Though it's more intense and syrupy than you'll find say on the Glendronach 15 year old.
Palate: Syrupy Christmas cake spice, oily mouthfeel. Yes that sounds quite stereotypical for a malt matured in ex sherry casks, but boy is this a fine example of the style. An amazing drop. Some dark chocolate and cherry notes come through too.
Finish: Paradoxically for a syrupy whisky, the finish is quite drying. Huge legs on the glass.
Comments: In a blind tasting, I would have picked this to be a Speyside malt as it is a fine example of the sherried malts so often produced from that region. Yamazaki have done brilliant work with this one.
Whisky #386: 66.66 Ginger Makes Fred Smile. 10 year old bottling from Ardmore Distillery. Highlands, Scotland. ABV: 61.9%.
Colour: Pale translucent copper; almost a rosey tinge.
Nose: Flame grilled steak, salted caramel and smoked salmon.
Palate: Smoked ham hock and beef jerky. It's smokey with a hint of fruity sweetness; reminds me of a slice of juicy pineapple on the BBQ.
Finish: Super long and sumptuous.
Comments: Matured in a first fill white wine hogshead, which is both quite unusual but also an amazing choice for this malt. I enjoyed it so much I ordered a bottle on the spot.
Whisky #387: 3.234 Scallops Cooked on a Puffer Shovel. 16 year old bottling from Bowmore Distillery. Islay, Scotland. ABV: 57.5%.
Colour: Pure gold.
Nose: Caramel popcorn is the first thing that hits. Orange chocolate and soft straw notes too – like a handful of straw thrown on a campfire.
Palate: Salty blackcurrant pastilles and caramelised bacon. Hmmm, bacon… *drool*.
Finish: A building meaty saltiness with a very long, mouthwatering finish.
Comments: An Islay malt from Bowmore that has been perfectly matched to a refill sherry butt to produce those delicious caramelised meaty flavours. Though I think the nose is the winner here, simply divine. Some would say that there's lots of smoke here both on the nose and on the palate, and they'd be 100% right…for me the smoke is there in droves, but it somehow takes a back seat to the amazing array of other flavours and aromas that are layered here.