by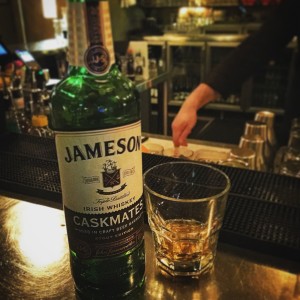 Jameson Caskmates Stout Edition Irish Whiskey. Dublin, Ireland. ABV: 40.0%. Tasted at Bobèche (Perth), $11.
Colour: Rich burnished copper.
Nose: Surprisingly light. Aromas tease like a Bounty chocolate bar that's just been bitten into – plenty of coconut and chocolate.
Palate: Grassy honey notes on the mid palate.
Finish: Quite short and thin. Sweet cream cheese and honey notes. Savoury yet sweet; but not too sweet. A slight woody after-taste.
Comments: A very interesting prospect, the Jamesons Caskmates Stout Edition has been finished in stout-seasoned casks. It's not as intensely flavoured as I might have expected. Very smooth and light, not the stoutish nutty chocolate or coffee hints that I anticipated might have come through.
I recently returned to Perth for a short visit to catch up with friends and it was awesome to drop into one of my favourite old haunts Bobèche and catch up with James behind the bar for a dram. Thanks to Joe, James and all the Bobèche crew for the Christmas card…the less said about those Christmas sweaters the better!
A special shout out to all Whisky a Day readers, I hope you're all enjoying a special whisky a day over the festive season and relaxing with close family and friends.
Slàinte,
Todd aka Whisky a Day